Wildlife Specialist
Are you seeking a career opportunity in sales, wildlife management, wildlife removal, biology, environmental and animal sciences, or pest control? Do you enjoy working with wildlife, trapping, working outdoors, home exclusion, and interacting with the public?
Then apply to Urban Jungle Wildlife Removal, LLC and become a Wildlife Specialist!
Who Is Urban Jungle Wildlife Removal?
Urban Jungle Wildlife Removal specializes in the removal and management of nuisance wildlife, exclusion services, and pest control. We serve commercial and residential customers alike throughout Texas and are continuing to grow. We provide thorough training to all of our Wildlife Specialists to ensure that they learn the skills required to be responsible for the daily operations of this position.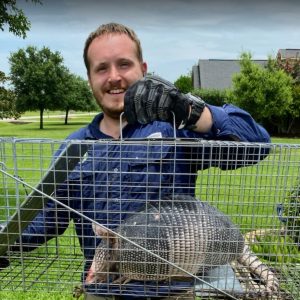 Job Responsibilities
Engage in sales of wildlife and pest control services for residential and commercial clients.
Inspect buildings, roofs, attics, and outside areas of residential and commercial properties to determine the extent of wildlife and pest control issues.
Collaborate with peers and clients to solve human-wildlife-related conflicts.
Develop comprehensive management solutions to wildlife-related issues at both residential and commercial sites.
Trap, remove, and exclude wildlife from residential and commercial structures.
Repair wildlife damage and exclude (e.g. wildlife-proof) potential wildlife entry points.
Use power and hand tools as well as insulation equipment.
Address potential recurring problems with ongoing control programs and pest control.
Appropriately schedule wildlife management and pest control services.
Provide a high-quality service while communicating with clients to ensure client satisfaction.
Complete all required service-related documentation in a timely manner.
Communicate on a regular basis with management.
Safely operate and properly maintain a company vehicle and equipment.
Benefits at Urban Jungle Wildlife Removal
Competitive compensation (Commission)
Comprehensive benefits package including medical, dental, vision & life insurance
Company vehicle, tablet, and cell phone
Comprehensive training program
Initial uniforms provided
Basic tools and equipment required in the course of employee duties
Benefit conditions: Only full-time employees are eligible.
Physical Requirements
Safely use a ladder within the manufacturer's guidelines.
Safely access attics, rooftops, crawl spaces (confined spaces), etc.
Must not have a fear of heights or confined spaces.
Through the course of duties: crouch, squat, bend, kneel, reach, climb up and down ladders, carrying ladders and other equipment.
Lift and carry up to 75 lbs.
Work outdoors in various weather conditions.
Work long and irregular hours, including nights and weekends.
Education and Professional Requirements
Four-year college degree required (preferred major of Biology, Wildlife Management, Environmental Science, Animal Science, or another related field of study).
Professional experience is preferred. Such as jobs dealing with: sales, wildlife and/or forestry, field service, environmental services, nuisance wildlife removal, pest control, construction or repair of home, etc.
Other Requirements
Valid driver's license
Good driving record
The ability to pass a drug screening
The ability to pass a background check
The ability to work in a dynamic and fast-paced environment
Critical-thinking and problem-solving skills
Flexible working hours
Extended working hours
Self-motivated with high energy, well-developed interpersonal, organizational and communication skills
Ability to work individually and as part of a team
High level of integrity and work ethic
Comply with all company health and safety policies
Hired applicants must reside or relocate within a 30-minute drive of their operational area.
Acceptable time or mileage may vary across urban areas.
This Job Is Ideal for Someone Who Is:
Dependable — more reliable than spontaneous
People-oriented — enjoys interacting with people and working on group projects
Adaptable/flexible — enjoys doing work that requires frequent shifts in direction
Detail-oriented — would rather focus on the details of work than the bigger picture
Achievement-oriented — enjoys taking on challenges, even if they might fail
Autonomous/Independent — enjoys working with little direction
Innovative — prefers working in unconventional ways or on tasks that require creativity
High-stress tolerance — thrives in a high-pressure environment
Job Type: Full-time
COVID-19
Precaution(s)
Personal protective equipment provided or required
Sanitizing, disinfecting, or cleaning procedures in place
Considerations
Employees are provided with PPE and expected to use it appropriately when interacting with customers and potential customers.
Disinfecting supplies are provided.