Tulsa is known as the heart of Oklahoma. Residents enjoy the intersection of Southwest, Midwest, Southern and Native American culture all in one beautiful, diverse city. The Tulsa Metropolitan area extends far beyond the city, connecting almost a quarter of the state.
Like any populous city, Tulsa is home to a variety of urban wildlife that seeks shelter and food in homes and businesses. Urban Jungle provides commercial and residential wildlife removal and pest control to clients in Tulsa and the surrounding areas. We are dedicated to ridding your property of critters and keeping your space wildlife-free for the long term.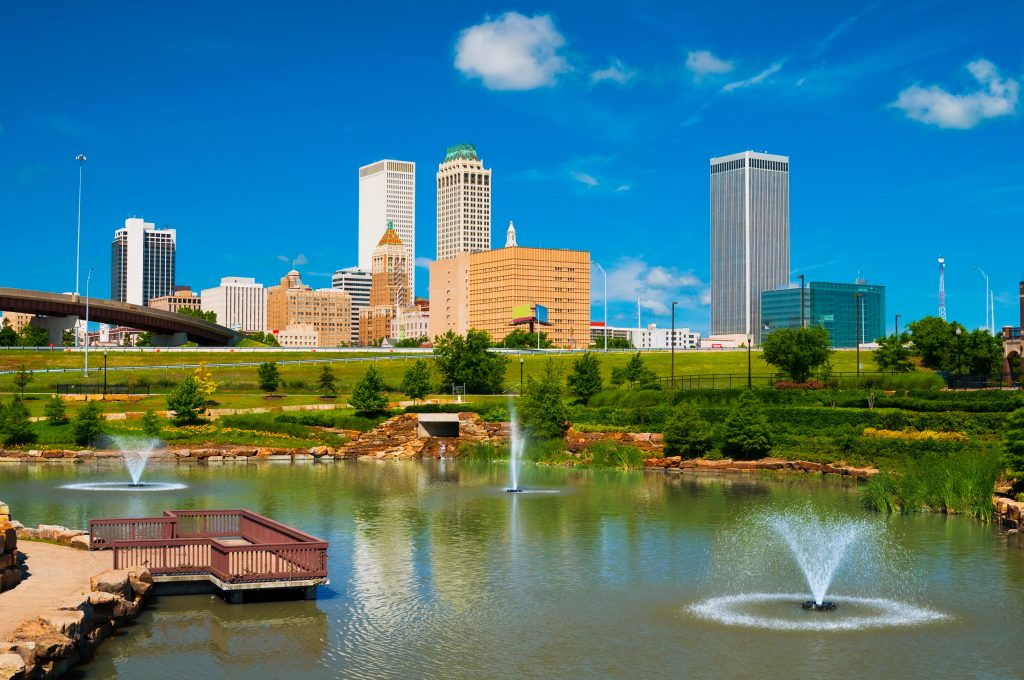 Common Nuisance Wildlife in Tulsa
Homes and businesses in Tulsa are most vulnerable to infestations from raccoons, porcupines, groundhogs, squirrels, skunks, bats, mice and rats.
At Urban Jungle, our employees are experts in wildlife biology, with degrees in related subjects and extensive training. They can quickly and effectively identify your critter problem and work to develop long-term solutions to remove the animals and keep them out for good. 
Our team members are fully insured, so they can get into all the same nooks and crannies for the most thorough wildlife removal services in Tulsa.
Tulsa Wildlife Removal Services
Whether you need rodent removal, snake removal or some other animal removal, your safety is our top priority. Wildlife that gets into your home causes damage that can lead to disease and health problems for humans, structural issues for your home and even electrical fires. Our team of certified professionals will work quickly to evaluate your infestation and determine the best course of action for removal, exclusion, repairs and cleanup.
Wildlife Trapping and Removal
After an initial inspection, we will get to work ridding your home or business of nuisance animals. Our wildlife removal experts will ensure that every animal has been removed from your home before moving on to other services. Most removals take less than two weeks. If yours takes longer, we will continue working at no extra charge.
Our Tulsa animal removal services include emergency removal for animals that need to be handled immediately as well as dead animal removal and cleanup.
Wildlife Exclusion and Repairs
If an animal has gotten into your home once, they know how to do it again. Our exclusion and repair services address any potential entry points for animals. We'll also repair damage caused by your infestation, including insulation replacement and repair. If there's anything we aren't able to fix, we'll let you know and recommend someone who can.
We're so confident we can keep your property critter-free that we offer a one-year warranty for our exclusion services with year-long extensions available.
Wildlife Cleanup and Sanitation
Animals cause damage by chewing on parts of your home as well as leaving behind large amounts of feces, urine and debris. These messes can be health hazards, and they're sometimes difficult to address without the proper training and tools. 
Let our team take care of the animal waste cleanup for you. We know the dangers associated with each infestation and we've got commercial cleaning products to leave your home or business sanitized and safe.
Other Areas We Serve 
Bixby, OK
Broken Arrow, OK
Claremore, OK
Collinsville, OK
Coweta, OK
Glenpool, OK
Jenks, OK
Muskogee, OK
Owasso, OK
Sand Springs, OK
Sapulpa, OK
Contact Us to See If We Serve Your Area ➔ 
Contact Us for Tulsa Residential and Commercial Wildlife Removal
Get rid of nuisance animals on your property for good with wildlife removal services from Urban Jungle. Contact us today to find out more or schedule an appointment. Submit our online contact form or give us a call at (918) 956-2092.